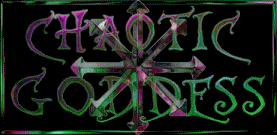 I am back. I won't be able to get on all of the time but I am back.
Sorry for being gone for so long. I had a baby. She is now 3 years old. Also, I had 5 back surgeries & now am disabled. Sitting is hell for me so that is why I haven't been on & won't be able to be on as much as before.
I love and miss you all so very much!!!
After working on a piece for a friend who just died I will be working on the final piece to the Hear/Speak/See No Evil. So Hear No Evil should be coming sometime soon.
Also, my gamertag on Xbox is: abandoned CHAOS